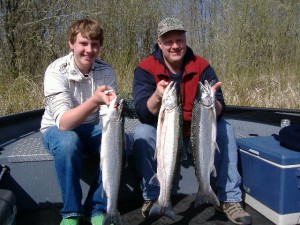 We fished once again on the Cowlitz River on Saturday March 20th. The fish were biting well and we hooked 5 nice Steelhead but no Chinook Salmon was to be found. There were more people on the river this day then I had seen in a long while. Out of the five-hooked Steelhead, we could land only three; they were putting up a good hard fight.
Sunday the 21st, I had three guys with me; all of us were recovering from the fun had at the Coastal Conservation Association (CCA) banquet the night before. The guided fishing trips that were raffled off courtesy of Mike's Guide Service at the banquet were well received, we had sold $1550 worth of tickets. Walt, another CCA member who helped me with the raffle, jumped into the boat with us and landed the first two fish of the morning. We fish hard all morning with only those two fish to show for our efforts, but finally around mid-afternoon we hooked another Steelhead. After that we hooked two more fish in the late afternoon and lost both of them, turned out to be a tough afternoon of fishing but still a lot of fun.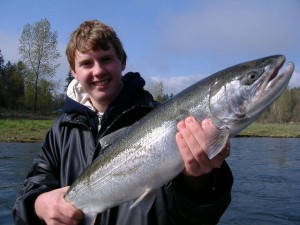 Tuesday the 23rd, out on the Cowlitz River again. This time I have a father and his son, Scott and Jeff with me. We started out on our first long drift, and Jeff immediately lands a nice 9-pound Steelhead, then about one hour later Jeff lands another Steelie weighing in at around 10 pounds. Just about this time the bragging and boosting starts, this definitely was a father and son day. By the end of the day we had landed 3 Steelhead and lost 2 others; chalk it up as another good day of Steelhead fishing on the Cowlitz River.