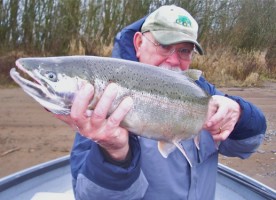 We are off at 6am to fish the Chehalis River, near Centralia, WA. As we drift downstream of the put in, I get a strike almost immediately. We are all awake now with the possibility of hot action right from the start, another rod gets a strike, the adrenaline is starting to pump. We are drifting roe behind a bobber, a great rig for reducing the time spent snagged up and retying leader.
Water on the Chehalis is high and has a bit of color, visibility is not to good. Joe gets the first fish and then another, both Northern Pike Minnows (Ptychocheilus oregonesis), a voracious eater, which carries a bounty on their heads in the Columbia river. After taking some verbal teasing, Joe gets even, as each of us lands a big minnow, good for a short burst of adrenaline, and a little warmth. We are beginning to wonder if the Steelhead are here. Our answer comes soon, as another boat hooks a native in the hole above us, and later hooks another keeper further down stream.
With four rods and 12 miles of river already covered, Evan hooks and lands a nice 12 pound clipped hatchery Steelhead, we are all proud, all is well that ends well. Tomorrow we head up to the Cowlitz River.

On the Cowlitz River
The weather is nice, the river is running high, but the visibility is good. Reports from other boats tell us the fish are here, but spread a little thin. We see an 18-pound native get released…game on. By the early afternoon we have 3 shiny 10 to 12 pound Steelhead in the boat. One rod hooked all the fish, it's lucky Doc Kirby's day.